Notice
: Uninitialized string offset: 0 in
/var/www/archive/wp-content/themes/vei/page-wide.php
on line
27
National Online Competitions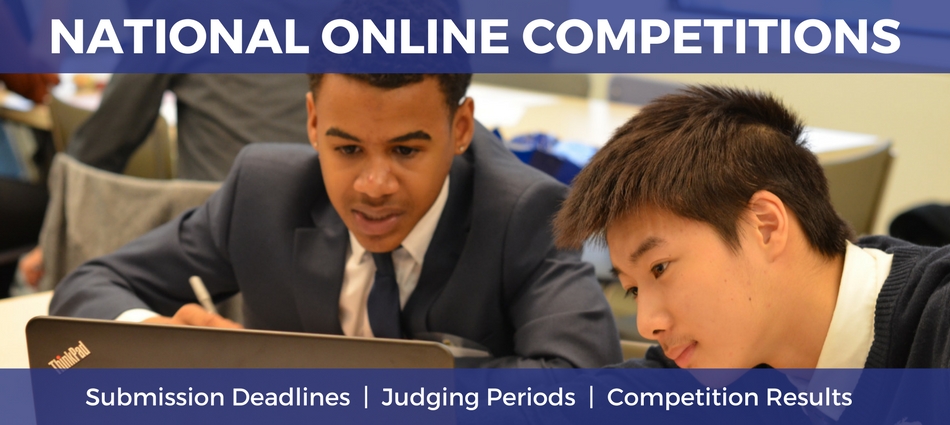 National Online Competitions offer VE students unique opportunities to develop and demonstrate career readiness competencies in different business domains, generate business for their VE firms, garner real-world feedback from a diverse pool of judges, and evaluate performance compared to peers on a national level.
The Competitions Manager allows people to easily participate in VE competitions from anywhere in the world.
2018-19 National Online Competitions
2018-19 National Online Competitions Schedule
Competition
Submission Period
Judging Period
Results Announced
Elevator Pitch
9/17/2018 - 10/6/2018
10/4/2018 - 10/31/2018
Week of 11/5/2018
Company Branding
10/15/2018 - 10/31/2018
11/1/2018 - 11/21/2018
Week of 12/3/2018
E-Commerce Website
No entry needed, all entries pulled
from VE firm directory on 1/16/2019
1/17/2019 - 2/15/2019
Week of 2/25/2019
Company Newsletter
1/28/2019 - 2/13/2019
2/14/2019 - 3/7/2019
Week of 3/18/2019
Video Commercial
2/25/2019 - 3/13/2019
3/14/2019 - 4/4/2019
Week of 4/29/2019
---
Rubrics
Rubrics for all competitions, including National Online Competitions, can be found by using the following path: Portal / Competitions & Rubrics / Rubrics
2017-18 Competition Results
Preview some of the top rated submissions from students and teams for last year's competitions.
To see all competition results, go to Competition Results. To submit materials or to judge, go to Competitions Manager.
2017-18 Elevator Pitch
2017-18 Company Branding
2017-18 Newsletter
2017-18 Website
2017-18 Video Commercial