Dear Friends,
Each school year is always filled with excitement and, most of all, countless possibilities as thousands of VE students across the nation take on the challenge of running business ventures in the classroom. As we look back on the past year in this annual report, we are proud to share the many achievements of students across the country who represent the future of our workforce and the innovators of tomorrow.
With the help of the business partners, supporters, board members, educators, mentors and advocates who are part of our mission, in 2016-17 we transformed 12,000 students across 400 schools in 19 states into business professionals and entrepreneurs. It is both exciting and humbling to know that VEI has impacted so many students who have developed the skills and competencies needed to be college- and career-ready while developing and executing business innovations.
Both our high school program and our recent VE Junior Ventures middle school program are steadily expanding to more schools, and we are witnessing incredible engagement and excitement among our 13- and 14-year-olds who have been given the opportunity to innovate and see the relevance of their school work to the real world of business. This past year's stand-out VE enterprises included sneaker-cleats for the athlete who plays multiple sports and no longer has to purchase multiple pairs of sports shoes, backpacks with retractable earphones, and a motorized bed overlay to keep people upright who are bedridden due to illness.
Inspired by our forward-thinking students, over the past year we have continued to embark upon new ventures. We launched the inaugural VE Venture Challenge, providing budding entrepreneurs with opportunities to transform their concepts into viable businesses through mentorship, education, financial support, and real-world business partnerships. We also implemented the VE Career Readiness Framework, providing schools with career readiness standards to benchmark their students' skill development as they transition to the next phase of their lives.
As we move towards our ambitious goal to serve over 20,000 students by 2020, we plan to continue to think big and aim high. We are grateful to each member of our growing global community for all that you have done and continue to do to help us prepare students nationwide to enter our rapidly-changing workforce.
Sincerely,
Iris Blanc
Executive Director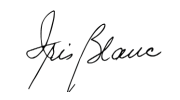 Ashley Fina
Board of Directors, Chair